Palm Beach Yorkies is a small family business offering parti color yorkie puppies for sale. We hale from Cincinnati, Ohio, but live in Florida now thanks to the beautiful weather, gorgeous sunsets, and fun beaches. Our dogs Gracie Lou and Rocky Littlefoot are purebred AKC Yorkshire Terriers with rare parti Colors. Rocky Littlefoot comes from a champion bloodline.
About Our Parti Yorkies
You can be confident that your new puppy comes from a loving home environment, because our family Yorkies Rocky & Gracie are the only dogs we breed! Our puppies are loved and cared for in our home as we care for our own Yorkshire Terriers. We are committed to each puppy's well-being, we work with each puppy on manners (barking, etc.), and even work, at the proper age, to housebreak the puppy.
Our Parti Yorkies come with papers for full registration with the American Kennel Club. Many breeders choose to continue to maintain the practice of cutting their Yorkie's tale at birth, but we have decided to leave them as they come. It is a joy to see their little tails wag!!
We stand with integrity with every Yorkshire Terrier puppy we sell providing a solid Health Guarantee, and we provide new owners with information on how to care for their puppies. We invite you to check out our puppies and let us know if you have any questions. God bless you!!
Palm Beach Yorkies
(561) 601-7402
Available Parti Yorkie Puppies
Sold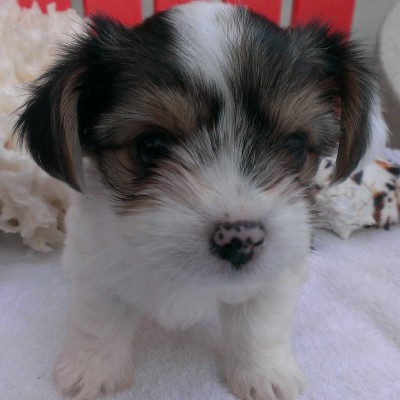 zGinger Sold!
"Ginger" is a parti color Yorkshire Terrier from a champion bloodline. She is mostly white with a couple of black spots on her back, and brown and black around her eyes and head. She has a very sweet, playful disposition. … Read More
$

1,200.00
Read more
Sold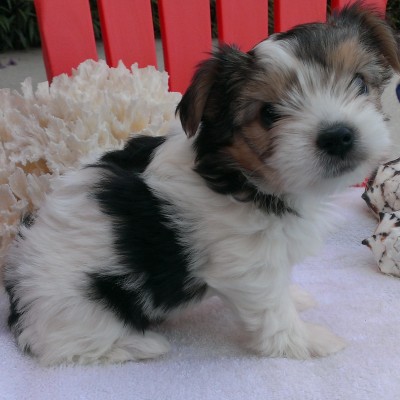 zDaisy Sold!
"Daisy" is a parti color Yorkshire Terrier from a champion bloodline. She is a swirl of black, white, and tan colors. She is a peaceful soul. She has been super trusting since day one and is very, very sweet. She … Read More
$

1,000.00
Read more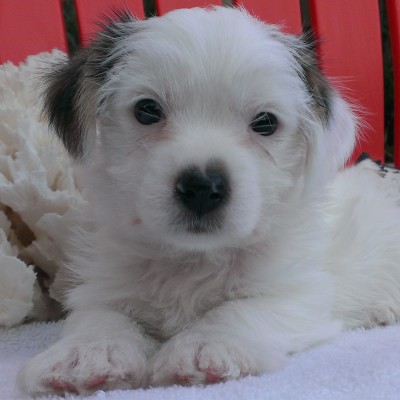 Polar
"Polar" is our LAST PUPPY and he is looking for a forever home. He is a parti color Yorkshire Terrier from a champion bloodline. He is mostly white with a couple of black spots on his back and on his … Read More
$

800.00
Add to cart